Few brands can boast 100 percent client satisfaction, and airlines are certainly not among those rare few. When complaints gravitate around the usual weak spots – disappointing customer service and lack of regard for passengers – the line between imperfection and bad reputation narrows.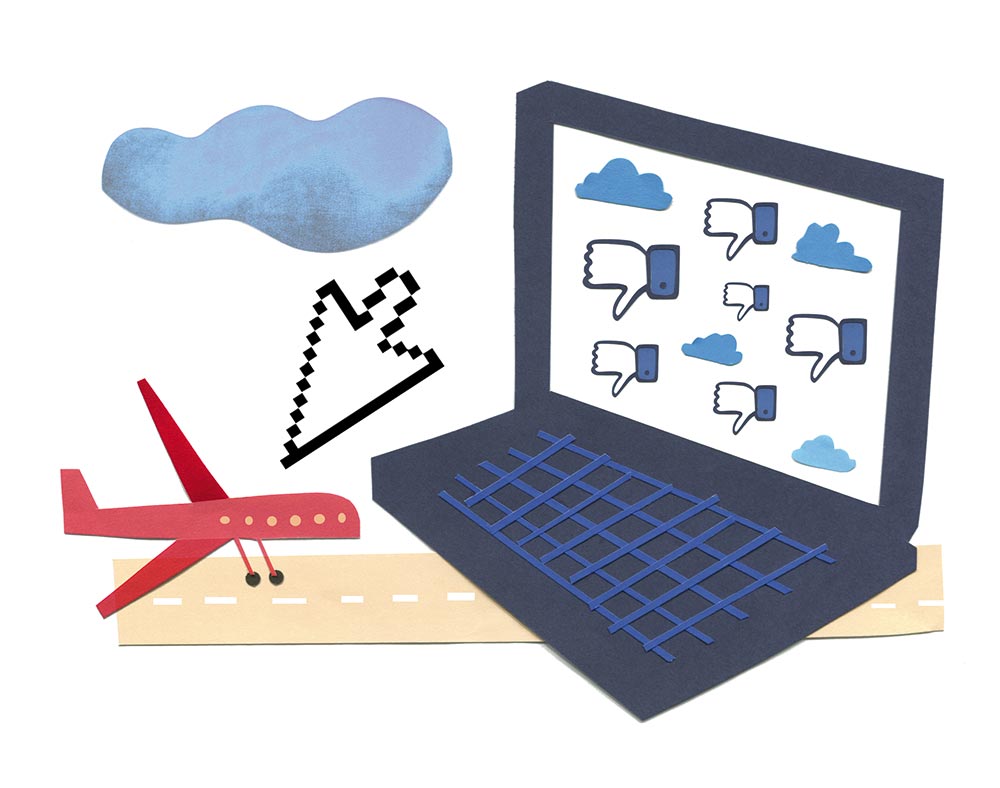 FLIGHTS & TRIBULATIONS
Today, disgruntled travelers are stepping up their game; not only do they strike back on social networks such as Facebook and Twitter but they are also using a new weapon: creativity.
UNITED BREAKS GUITARS
An engaging "social" complaint about a real airline deficiency can hit hard. When musician Dave Carroll posted a YouTube music video titled "United (Airlines) Breaks Guitars" (his guitar was mishandled during a flight and customer service responded poorly to his claim), it instantly became an anthem for every traveler who ever had a luggage complaint go unheard: today, the video has almost 15 million views. Unsurprisingly, as Carroll explains, United "Were unprepared to handle a social media wildfire. (They) have been criticized by customer service and social media experts around the world for both what they did and did not do properly. While the conversations were taking place online, United typically responded with traditional media releases." Airline travel and customer complaints go hand in hand, especially since the boom of low-cost flying. In 2014, a lengthy rant aimed at Ryanair appeared on James Lockley's Facebook page; the post, infused with humor and satire, has been shared thousands of times on Facebook and Twitter and landed on the pages of major newspapers worldwide. Needless to say, it didn't do wonders for Ryanair's reputation, as the company has already been under fire for its "no apologies" approach to budget flying.
SIX-MINUTE RELIEF
Carroll and Lockley decided to wage war only after their initial complaints had been unsatisfactorily addressed. Keith Pape, a traveler who was "turned down for standby" while attempting to catch an earlier flight from Texas to LA, might have been tempted to do the same, but his tweet to the airline customer service @AmericanAir – "Just told my ticket doesn't allow me to sign up standby for earlier flight. That is stupid" – was answered within six minutes and a solution for his problem was rapidly found. Stephanie Scott, a social media specialist at American Airlines, explains, "Our social customer service team monitors our social communities 24 hours a day, 7 days a week, for incoming mentions. When we see a complaint, our goal is to respond within 10 minutes and be empathetic in asking for details."
CUSTOMER SERVICE 2.0
Airline customer service is tricky because passengers are often in stressful situations and emotions run high. Twitter allows them to express their frustration in a public forum but still puts them in direct contact with the customer service team. "It allows travelers in transit to get in touch with their airline in a much easier way," says Raymond Kollau, founder of Airlinetrends.com, "and provides customers with a magnified voice that can have a huge impact on an airline's reputation." Airlines also appreciate Twitter's efficiency: messages tend to get straight to the point, removing the added stress of a conversation at the customer service counter, where many other people are usually standing in line, tapping their feet. "The airlines are using social media like they are using the phone, for one-to-one issue resolution," said Ragy Thomas, chief executive of Sprinklr, a social media technology provider. "It's unrivaled in its efficiency."
GIVE IT A TRY
Next time you're at an airport and something goes wrong, don't rush to the other corner of the terminal to join the hell-on-earth customer service line. And before you go home upset and decide to record a YouTube video damning the company for all its faults, keep in mind that an alternative lies right in your pocket. As more than 200 airlines now use social networks, the solution to your dilemma might just be one little tweet away.
[W    aa.com    airlinetrends.com    davecarrollmusic.com un.org    ryanair.com    sprinklr.com    united.com]
Published in the hard-copy of Work Style Magazine, Fall 2014