The original grainy videos have been replaced by recognizable (soap) actors in slickly produced DVDs and multi-media platforms.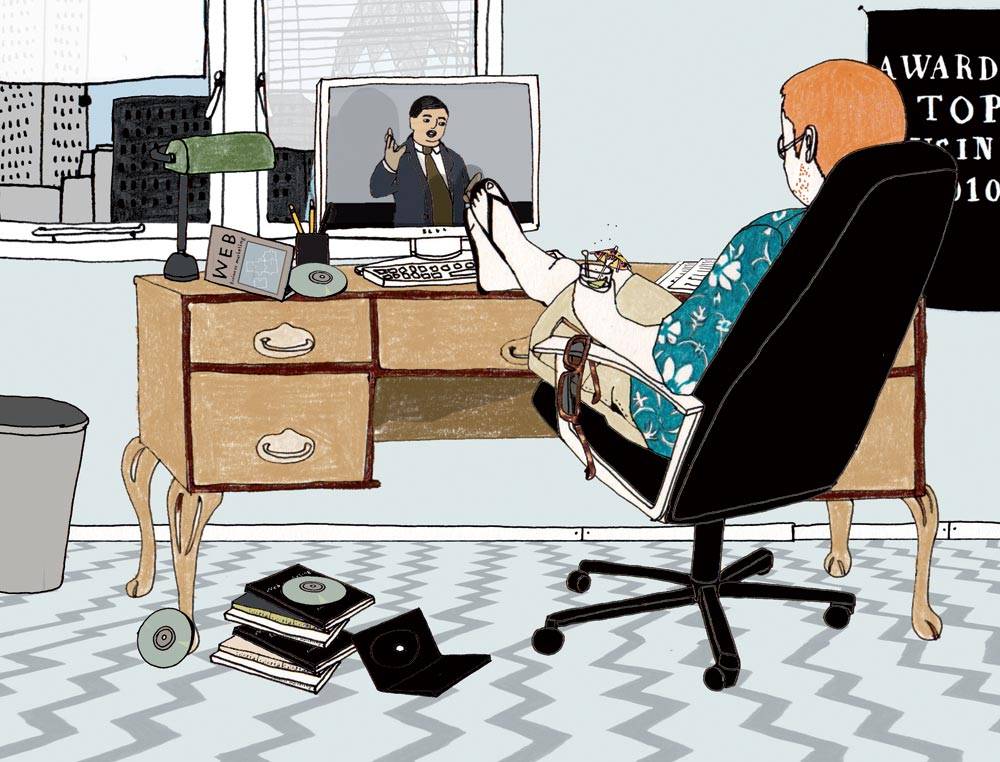 Acclaimed film director, Robert Altman, began his career making in-company training videos; John Cleese, creator of, among others of Fawlty Towers, made his fortune with Video Arts, a company selling corporate training videos to businesses and, amazingly, Microsoft signed up Ricky Gervais, creator of the Office, to make them a couple of management training videos.
SPENDING FOR TRAINING HASN'T DRIED UP
The global economic slowdown has encouraged companies to use the latest technologies for corporate training, rather than the traditional long-haul conference. Excessive travel and accommodation spending have dried up, but the need for training has not, and technology-driven teaching methods have flowed into the vacuum, offering cost-effective flexibility. Cisco Systems has set up an online learning program, Education Management System, which provides extensive training in leadership and management areas, as well as technological and engineering matters, for all its staff. Aravind Sitaraman, managing director of Cisco Development India, said, "The key attraction of this system is that it allows employees to become aware of various options and plan their learning as they wish."  McKinsey, Philips Electronics and Johnson & Johnson all use 3D computer games to hire and train employees. They may not be as sophisticated as the latest top-sellers, but show what may be in the pipeline for the future workplace. 
ONLINE TRAINING AND E-LEARNING
The eLearning Guild, looking at the design and management of e-learning tools in business, government and education, found that in the financial and banking industries, the level of people using games for work had increased from 33% to 40%, over the past nine months. Since 2000, McKinsey's German headquarters has run a computer game called CEO of the Future, to find new talent. In 2007, 5,000 managers and students, worldwide, were challenged to set up a European insurance company in Korea, or maybe launch a drug made from GM fruit. Kantola Productions, was set up in 1985, by psychologist, Steve Kantola, in San Francisco, and produces a huge range of business training videos, with human resource titles such as Sexual Harassment, A Commonsense approach, The Stanford Guide to Financial Statements and Performance Appraisals: Getting Results. Kantola say they use dramatic-format videos with professional actors to show 'real-world business situations' and how to implement effective methods, resulting in fast, easy-learning techniques, that facilitate positive change. Their mission statement is, "Video training that respects your time, your intelligence and your budget". Two years ago, Peter Knight, the author of HEMP (The Highly Effective Marketing Plan), set up the Estate Agent Academy to provide online training for estate agents. Knight says, "There is huge demand for this service and we will broaden our offer prior to expanding into other sectors". He says, "Online video training is very cost effective… It does not replace live events or one-on-one coaching and should be seen as part of the mix, rather than a panacea for all training and personal development". He also says the medium is secondary to the message and online video will only work if the content is good. Knight states "Once we have developed our offering comprehensively, we will turn our attention to other sectors and repeat the formula. We will not offer generic videos for all sectors, we want to address a specific industry with relevant content".

AN ALTERNATIVE TRAINING
Business training videos are not for the negative in outlook, nor for the impoverished in pocket, most costing thousands of dollars, but the scene seems to be set for producers of positivity to quickly make bespoke little nuggets of effectiveness that will inspire and galvanize worldwide workforces without any messy human interactions. If you don't fancy sending your workforce to some exotic location for a bit of team-bonding and don't like the idea of forking out on a bespoke or off-the-peg training video, you could supply some drinks and nibbles and get everyone to watch Jack Nicholson in the film Wolf.
[W    cisco.com     jnj.com     kantola.com     mckinsey.com     microsoft.com     philips.com]
Published in the hard-copy of Work Style Magazine, Spring 2010