In an attempt to avoid Wall Street from repeating the actions that have brought ABOUT the financial crisis, President Obama is introducing legislation designed to regulate the financial industry.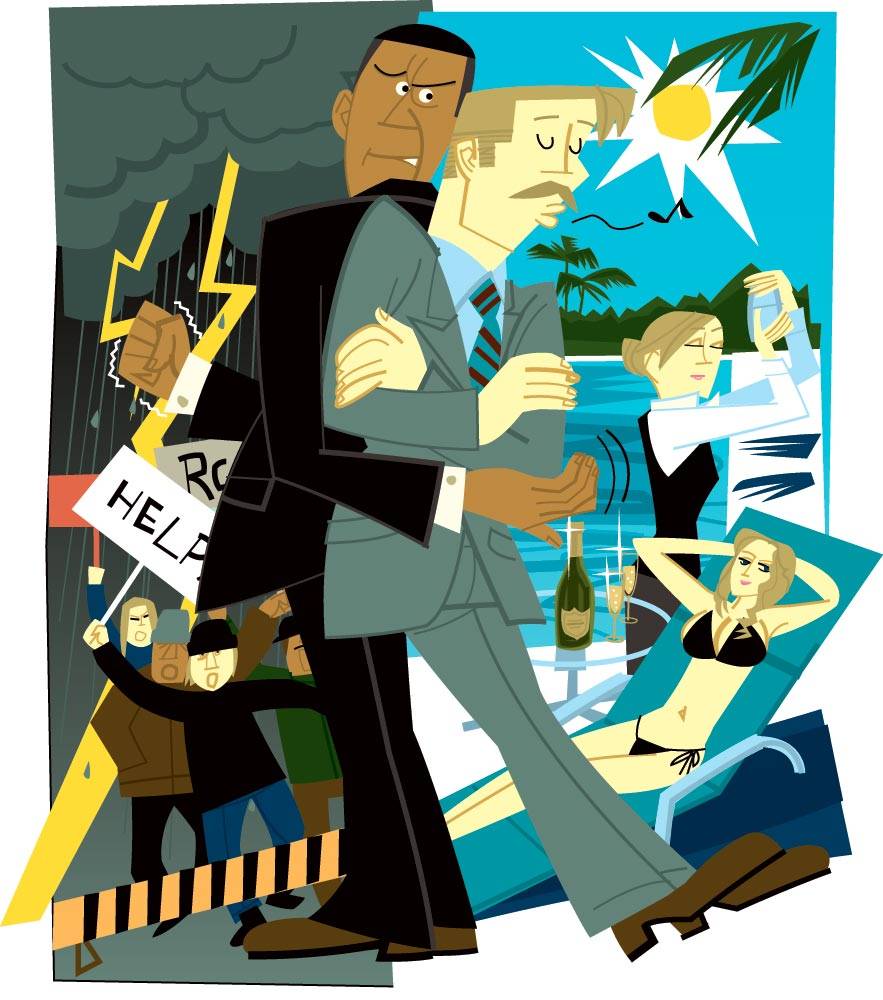 To Wall Street executives he says "Instead of sending a phalanx of lobbyists to fight this proposal or employing an army of lawyers and accountants to help evade the fee, I suggest you might want to consider simply carrying out your responsibilities". President Obama has announced that, as many as fifty financial firms with assets greater than $50 billion, will be charged a tax, termed a 'Financial Crisis Responsibility Fee' to help recover some of the U.S. taxpayer-bailout money, as well as attempt to trim the ever growing federal budget deficit. The Obama administration estimates the unrecovered cost of bailout money to be $117 billion. The new fee would recoup this amount within ten to twelve years, and then end. "My commitment is to recover every single dime the American people are owed. And my determination to achieve this goal is only heightened when I see reports of massive profits and obscene bonuses at the very firms who owe their continued existence to the American people-who have not been made whole, and who continue to face real hardship in this recession", said President Obama.
INTRODUCTION OF THE NEW TAX
The tax would be imposed beginning in June 2010 on such mega-companies as Citigroup, AIG, and Bank of America. Banks and financial institutions that didn't receive federal funds would also face the tax.
VOLCKER RULE
In addition to the tax, President Obama has proposed the 'Volcker Rule'. This would stop banks from being allowed to own, invest, or sponsor hedge funds, private equity funds or proprietary trading operations for their own profit. The Volcker Rule-in recognition of the former Federal Reserve chairman, Paul A. Volcker – would limit the size of the largest U.S. banks and prevent financial institutions backed by the U.S. government from taking huge risks in speculative investments that contributed to the economic crisis in 2008. Speculative investments would be left to other areas of the financial markets and not the large federally insured commercial banks. "Hedge funds, private equity funds and trading activities unrelated to customer needs and continuing banking relationships should stand on their own, without the subsidies implied by public support depository institutions," says Volcker. "They are, and should be free to trade, to innovate, to invest–and to fail.  Managements, stockholders or partners would be at risk, able to profit handsomely or to fail entirely, as appropriate in a competitive free enterprise system."
WALL STREET DREAMS ABOUT "OLD DAYS"
While President Obama's the large scale vision for fair, equitable and responsible financial institutions is noteworthy, Wall Street is livid, yearning for a safe return to the old 'business as usual','too  big to fail' approach. Using tax policy to punish people is a bad idea, JP Morgan Chase CEO Jamie Dimon said. "All businesses tend to pass their costs on to customers". Opponents of the proposal argue that several banks that would be subject to the tax have already paid back all the bailout money they received. Many go on to insist that the proposal does little to change their business models, and it remains unclear if either proposal would have helped to prevent the economic meltdown. Most economists believe the tax will help to recoup bailout money, but it is not likely to help end excessive executive compensation. A direct tax on excessive Wall Street bonuses would help to discourage such payments. Great Britain has already proposed a 50% penalty on bank bonuses. Moreover, British Prime Minister Gordon Brown has called for a global tax. It is important, he argues, that the "contribution banks make to society is properly captured." Prime Minister Brown believes President Obama's tax is proof that "support is building for international action," as "people are now prepared to consider the best mechanism by which a levy could be raised." Likewise, economists also believe that the Volcker Rule can have a positive impact on the economy. Banks would be forced to get back to the more stable, albeit boring, business of lending and deposits, ending speculative and volatile proprietary trading and hedge fund investing. Those opposing the Volcker Rule state that international consensus is still needed, particularly among the nations where multinational financial institutions are based. Of course, Wall Street executives have also questioned the need for the Volcker Rule, believing such limits could cause a number of problems for U.S. banks, including putting them at a competitive disadvantage to their foreign counterparts. And as the old game on Capitol Hill goes, the New York Times has reported that some chief executives are already sending a clear message to elected Democrats in Congress by donating money to the Republican Party to shift the political edge and help influence mid-term elections. "If the President wanted to turn every Democrat on Wall Street into a Republican, he is doing everything right," said an industry lobbyist.
MEANWHILE, THE ECONOMY IS "SLOWLY WAKING UP"
While the Obama administration's ambitious proposals attempt to rein in Wall Street, the U.S. economy is slowly recovering, albeit at a modest pace. Now the proposals will be brought to Capital Hill where the U.S. House and Senate will soon vote on the legislation. Reactions on both sides of the political aisle are mixed. What Congress should remember is that, while the stock market is up from March 2009 lows and banks have stabilized, unemployment continues to hover at around 10%, and close to 15% of all Americans have mortgages larger than the value of their home. Over the next two years, the American people will largely determine the political landscape. Our hope is that even Wall Street has learned from the grave lessons of the past, while building for a return to financial strength, economic security and prosperity.
WHAT THE NEW TAX MIGHT GENERATE IN REVENUE
| | |
| --- | --- |
| | Est. annual tax |
| Citigroup | $2,160 mil. |
| JP Morgan Chase | 1,956 |
| Bank of America | 1,737 |
| Goldman Sachs | 1,170 |
| Morgan Stanley | 992 |
| MetLife | 746 |
| Wells Fargo | 578 |
| Bank of NY Mellon | 212 |
| State Street | 199 |
| U.S. Bancorp | 134 |
| PNC Financial Services | 99 |
| Northern Trust | 71 |
| BB&T Corporation | 62 |
| Capital One Financial | 61 |
| Sun Trust Banks | 54 |
| Regions Financial | 50 |
| Hudson City Bancorp | 46 |
| Fifth Third Bancorp | 30 |
| KeyCorp | 28 |
| M&T Bank | 27 |
| Comerica | 20 |
| Marshall & Ilsley | 18 |
| Huntington Bancshares | 11 |
| Zions Bancorporation | 11 |
[W   aig.com     bankofamerica.com     bnymellon.com     citigroup.com     goldmansachs.com     jpmorganchase.com     metlife.com     morganstanley.com     northerntrust.com     pnc.com     statestreet.com     usbank.com     wellsfargo.com]
Published in the hard-copy of Work Style Magazine, Spring 2010