It has taken a long time for women to become recognized as leaders in the art world. There are many examples of women gallerists in history who profoundly impacted the business with their accomplishments.
Does being a woman make a difference in the arts field? In the twentieth century, women have accomplished a lot in the arts. It is quite a recent phenomenon that women have taken positions in the art world as heads of museums or gallery owners.
WOMEN GALLERISTS  ON THE SCENE
In the twentieth century, many galleries founded by women played a key role in the international art scene, enabling the emergence and recognition of new artists and new trends. In the footsteps of Berthe Weill, a pioneer who opened a gallery in Paris in 1901, women gallerists have been discoverers of talent, reaching to the unexplored, passionate and exciting; and have allowed a whole new generation to be known and recognized.
A MUSEUM DIRECTOR CAN BE A FEMALE JOB
It is mainly from the 1980s that some women began to enter the elitist club of museum directors. Now they are directing dozens of art centers and museums. But let's remember that the Guggenheim museum in Venice and the Whitney museum in New York were initiated by women.
GERTRUDE AND PEGGY, EXAMPLES OF SUCCESS IN ART
Gertrude Vanderbilt Whitney, the museum's namesake and founder, was herself a well-regarded sculptor as well as a serious art collector. As a patron of the arts, in 1929 she offered to donate her work to the Metropolitan Museum of Art. As the Met declined the gift, in 1931 she decided to open her own museum exclusively for American Art. In the modern-Medici world of 20th-century art patronage and art collecting, Peggy Guggenheim was a unique character. She collected art like nobody else, picking up items that didn't sell, and works for which there was, as yet, no market, just because she loved them. She discovered Jackson Pollock when he was a humble carpenter in Solomon Guggenheim's museum, and gave him his first exhibition in 1950 at the Museo Correr in Venice. Now her collection is amongst the most renowned around the world.
WOMEN OPEN GALLERIES
As recognition came for women, others also decided to get involved by opening art galleries. And though some might think that there are a lot of women, let's not forget that it was not always the case. More than a specific education path, it is their passion and determination that led them to take the risk of promoting normally unknown artists and help them build their careers. For a long time women gallerists were not respected as some people saw them as bored housewives. Leo Castelli's first wife Ileana Sonnabend was one of these formidable dealers of 20th century art. She ran a contemporary art gallery in Paris during the early 1960s after the couple divorced and was a true discoverer of emerging talent. In the 1970s, she opened another contemporary art gallery in New York, the Sonnabend Gallery. In Paris, Denise René was a key example of determination. She started working in 1945 and her gallery still exists. And as Daniel Abadie puts it in his book "Form and Movement in 20th Century Art", "Denise René took the idea that art must invent new paths in order to exist as her guiding principle."
GALLERY ACTIVITIES
In truth, the job is not about holidays, cocktails and endless art talks. Days are exciting yet long, and whether one is a man or a woman, there is more to learn about moving crates and artworks, installing or drilling holes in the walls, than preparing a perfect cocktail. In fact, there is no usual day. During a show preparation it is all about running around and logistics. Then as the show starts, it is also about communicating your passion to the art collectors who come and eventually convincing them of the presented artists' quality. Then the day is not over as the gallerist has to promote the artists in other places, from art fairs to museums and art centers. And this is even more work when you decide, as I did in 2009, to expand and open a second (or third for some) gallery in another place in the world. The job is multi-faceted, and that is the exciting part of it. Recognition is real when it comes from peers, regardless of their gender. Several women artists had their work recognized, such as when the photographer Lee Miller did a cover for Life magazine, or more recently when Sophie Calle and Annette Messager represented France at the Venice Biennale. However, note that at the Festival de Cannes in more than sixty editions, only one woman has won the Palme d'Or.
NEW MEDIA
With the rise of new media, women artists also know how to take their chances and use all the tools to convey their messages. German filmmaker Ulrike Ottinger, makes unconventional videos with stunning visual richness and playful accents. Since the 70s, she has built plural and poetic work, leading her audience into extraordinary and enchanting worlds. Others such as the Guerrilla Girls raise a question. In a widely shown poster they ask: "Do women have to be naked to get into U.S. museums?". In 1989, when the Guerrilla Girls did the first version of their poster, less than 5% of the works in the Modern and Contemporary Sections of New York's Metropolitan Museum of Art were by women, but 85% of the nudes were female. In the fall of 2004 we went back and recounted. SURPRISE. Not much had changed. In fact, there were a few less women artists than fifteen years before! Needless to say, women have a long way to go to be recognized.
A glance at the Gallery workplace with Andrée Sfeir-Semler
What is the concept behind managing an art gallery or museum? I manage a commercial gallery and our aim is to represent an artist by first discovering him or her, promoting and showing their work, contacting museums, taking care of costs, and selling the pieces. We organize exhibition shows in a huge space every 6 weeks or 2 months.
Why are there many women gallerists? Actually, most of the leading galleries of the world are run by men. For example when you look at New York, there are a few prominent women gallerists, but the majority of galleries/museums are owned and managed by men. If you look at the broader art scene, you can find many smaller galleries managed by women. The one exception to this rule is Madrid, where most of the important galleries are run by women.
What kind of personal and professional "path" has led women gallerists to this job position? If you look not only at the art world, but also at the general structure of society, the highest jobs still go to men. Women in art galleries and museums normally have assisting roles, but not at the top management level. I have a PhD in Art History, which is of course a requirement for the field, but I use Business a lot more. For a woman, it is very challenging to reach the top.
How do women gallerists organize their work day? It is all about business. We talk about how business comes first and culture second. You have to have the skills and know which artists to promote. Once you pick them, you need to know how to finance them by selling their work. The idyllic portrait of the "starving artist" is obviously not the goal.
What relationship do you have with new media? When I started my gallery in 1985, I only worked by phone. Now everything is done with new media, our website and email. A website is one of the best forms of promotion and I read around 200-300 emails per day for communication.
The new Florence Nightingale Museum Opens in May 2010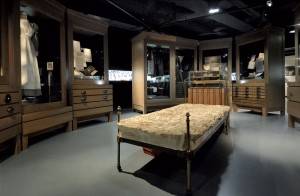 The Florence Nightingale Museum re-opens on May 12, the birth date of the Lady of the Lamp. Situated in the grounds of St Thomas' Hospital on the site where Florence established her very first Nightingale Training School for Nurses, the Museum tells her story via three pavilions, focusing on her Victorian childhood, the Crimean War and her later years as an ardent campaigner for health reform.  The Museum also celebrates the profession of nursing and explores Florence's legacy to today's nursing practice. The Museum features an unparalleled collection of Nightingalia, with highlights including the writing slate Florence used as a child; the medicine chest she took to the Crimean war; a rare Register of Nurses which lists the women who served under her in the military hospitals in Turkey and the Crimean; and her pet little Owl Athena who travelled everywhere in her pocket. The highly visual and engaging interpretation features interactive and touchscreen exhibits, films, a creative programme of free arts activities for children, and regular contemporary art exhibitions which will see artists respond to different aspects of Florence's life and legacy.  Visitors even use a pair of stethoscopes to hear the audio tour. Caroline Worthington, director, of Florence Nightingale Museum says "this is a special year for Florence and the new Museum is a very fitting tribute to someone who has contributed so much to modern day nursing. Florence has inspired so many men and women to join a profession which we all rely on and it is fascinating to see that the issues she tackled such as hospital hygiene, caring for soldiers and the training of nurses are still hugely relevant today. We are excited about welcoming a wide range of audiences to discover more about this iconic Briton."
Corporate Arts Collections
Contemporary art and machines
The BMW Group's cultural programme sponsors more than 100 events worldwide and has been a key element of corporate communication for almost 40 years. The company guarantees absolute creative freedom in all cultural activities it is connected to.
Visual Art of the Twentieth Century Bayer's commitment to the visual arts goes back more than 100 years. The company now owns more than 5.500 thwentieth-century paintings, drawings, prints and sculptures. It offers works from its "Artothek" to employees on loan.
Classical Modernism and Contemporary Art The Deutsche Bank Collection is one of the largest corporate collections worldwide, with more than 56.000 works of art. The collection is in 911 of the bank's buildings and on loan in 28 museums and cultural institutions.
A world-class collection of contemporary art UBS
With a collection of paintings, photographs, drawings, sculptures and video art from 1950 onwards, UBS is recognized as having one the world's most important art collections of contemporary art.
Fashion and Contemporary Arts
The international Hugo Boss arts programme concentrates on contemporary arts. Nowadays it sponsors exhibitions in more than 20 museums worldwide and with the Guggenheim they have established a contemporary art award
A commitment to art in the everyday world In Crédit Suisse art is quite important, both in terms of sponsorship and of Art Collection. Established in 1975, the collection now comprises 5.000 artworks and it is investing a lot in improving its collection with new young talent.
Arts insurances Zurich in the last few years has gathered a great art collection in order to embellish its workplaces. Furthermore Zurich sponsors some important cultural institutions: the Art Basel and an annual award: The Zurich Art Prize.
Aesthetics and flavour: two inseparable concepts Illy is partner of the most important international art fair worldwide.In 1992 Illy created the first collection of cups trying to combine the aesthetic of the cup together with the taste and flavour of coffee.
Arts collections, exhibitions, international arts fairs but also literature, music, theaters and creative thinking. In the next issue we will focus on these to understand which are the latest trends in this sector and which are the best practices for working with arts.
"Arts reflects who we are – as a society, as an individuals, and as an institution. It can remind us of our collective heritage. Our hint at our future. The same goes for us- UBS." This is the thinking that has lead UBS to invest a lot on their Art Collection and on becoming sponsor of several international arts museums. Also the BMW Group has a strong interest in all forms of cultural expression, both globally and locally. For its own employees as well as for a wide cross-section of the interested public. They think that "by cooperating with and supporting artists as well as those involved in culture in a broader sense, the BMW Group's Communication division wishes to set thematically challenging and convincing accents." The philosofical concept of the kalokagathia links indissoluble taste and flavour to beauty: what is good is also nice and vice versa. To follow this ideal Illy has contributed to the circulation of contemporary art and to the support of young artists and international arts fairs, for fifteen years.
[W    bayer.com   bmw.com   credit-suisse.com   db.com   florence-nightingale.co.uk    guggenheim.org    hugoboss.com    illy.com   life.com    magda-gallery.com    metmuseum.org    sfeir-semler.com   whitney.org   zurich.com]   
Published in the hard-copy of Work Style Magazine, Fall 2010