66% of employers monitor internet connections, 43% of companies monitor e-mail, 45% monitor time spent and numbers called, almost half (48%) of the companies surveyed use video monitoring to counter theft, violence and sabotage. Only 7% use video surveillance to track employees' on-the-job performance.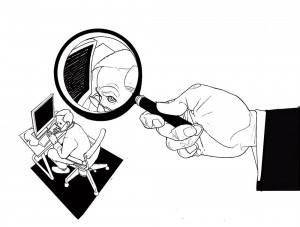 Mr. James Smith works with a car manufacturer company, Frankstin Automotive Inc. – a US based multinational. He generally uses the Internet during work hours to carry out his job, for keeping himself informed as well as for leisure. His colleague Paul Simpson of the Administration Department sometimes gets connected to Facebook in order to keep himself in touch with his friends and workmates who do similar jobs with other companies to exchange work experiences. Aretha Jensing, instead, has received a cellular phone from the company for business calls: she is in the Public Relations Department and contacting people is key for her occupation. She is too busy to distinguish between business and personal calls so that she generally uses the same line for both. Finally Jack Pollak is the company driver and his boss has introduced a GPS tracking system to locate his car in order to better manage the service. John Simpleton, Vice President Human resources has decided to revise a policy regarding employee usage of company technological equipment, to be implemented worldwide. His European colleagues in human resources, however, raise important issues. Mr. Simpleton goes nuts. All these are just a few examples of how technology is intermingled nowadays with job performance. As a consequence, tapping and tracking combined with company policies are increasingly used by employers to manage productivity and minimize different types of risks. On the opposite side, workers and trade unions do not feel at ease if every sneeze of the employee or short work interruption during business hours is detected and registered.
According to the 2007 Electronic Monitoring & Surveillance Survey from American Management Association (AMA) and The ePolicy Institute, employers use technology extensively to monitor their employees, not only for ascertaining the possible misuse of a company's assets but also for performance control. Violation of company policy, inappropriate or offensive language, excessive personal use, and breach of confidentiality rules are the main reasons which motivate monitoring, then causing the loss of jobs when they are finally ascertained. Modern technology in the workplace make it possible to monitor almost every aspect of work activity. The answer for how to draw the line between the interests of employers and employees is not clear-cut. Employers have the legitimate interest to verify the correct use of company tools as well as have their workers comply with law and company policy. On the other side, workers have the right to obtain privacy protection. First, in the global environment, the basic differences in the notion of privacy principles on the two sides of the Atlantic reflect on the workplace. In short, in the old continent privacy is a human right and employees do not lose their fundamental rights only because they cross the company's entrance door. In the US instead, the right of privacy is limited to individuals who are in a place that a person would reasonably expect to be private. Because originally, the major concern of the drafters of the American Constitution was the possible intrusion of government on the private life of individual citizens. The difference in practice causes a company policy of a US multinational, covering aspects such as employee monitoring, not to be implemented in the EU zone as such. In short, in the US almost any sort of technological monitoring at work – from video surveillance to telephone monitoring, from computer control to e-mail content reviewing – is basically legal. In the States the match between permitted and illegal monitoring is played over the transparency principle. Monitoring, in substance, is deemed legal if employees have been previously informed. Despite this fact, only a minority of States in the US require prior notice for legal monitoring. In the European community the Working Party of art. 29 (WP) – an advisory group composed of representatives of the data protection authorities of the Member States – has expressed its views on this subject in a few occasions. Employee monitoring falls under the scope of the European Data Protection system and it is also ruled by the labour law and practice of each Member State. In general, 'any monitoring must be a proportionate response by an employer to the risks it faces' and 'must be carried out in the least intrusive way possible'. Prolonged, continued and/or blanket controls are inadmissible. But besides the law, wouldn't these principles improve internal relations and individual well being inside the company?
[W     amanet.org     epolicyinstitute.com     imperiali.com]
Published in the hard-copy of Work Style Magazine, Summer 2010