Moderator: Rosario Imperiali
Date: April 12th 2011
Location: Open Care
Illustrators: Karen Sason and Gökce Turkel (Turkey)
Storyteller: Thrasy Petropoulos (Greece)
Photographer: Roberto Benzi (Italy)
Filmmaker: Esam El Dabagh (UK)
Starting sentence by the moderator Rosario Imperiali
Identity is a strange subject and very difficult to address to probably because "we have a sort of  fracture between our inner self and its expression to other people." That is the main concern of Identity as an issue, in Rosario Imperiali's words. As a matter of fact identity is a sort of game: "we have some expectations that others perceive us as we would like to." But that is not always the case and we need to negotiate every time our definition of identity. Identity at workplace "is an issue of the individual as much as the community of people working together." But there is another struggle taking place: the business persona and the employee identity as an individual are often at odds; "in order to fully express our identity the inner projections must show up and reveal themselves."
Development of the City Talk
"Identity of the person and identity of work. Participants indicated how fundamental is in their worries to cross the statute of "number" and start being considered, within a company, as an "individual". Skepticism is high. The committment requested to companies to "turn on a dime" to the role of identification of people that work is strong. Perspected identity is told in a clear way by participants that have a wish for the future, to work in companies that have a higher consideration of them, also as individuals other than employees". "The individual/person is the core concept of the dialectic between brand identity and personal identity".  There were different chiars and poufs, but less than the number of participants: this approach had the purpose to incite people to stand up, to interact one another, and to avoid them to sit down in a passive way. Tables were used as marginal supports, preventing them to became the central objects associated with the talk. Through this organization, Rosario wanted to stimulate individuality and the personality of people involved, thus stimulating their originality and spontaneous participation to the discussion. The empty space associated with this location favoured this "minimal" approach of interaction, thus provoking participants to speak about their individual identity. An important role to this talk was given by IT supports and by the way of interaction between men and computers.
Report, by Thrasy Petropoulos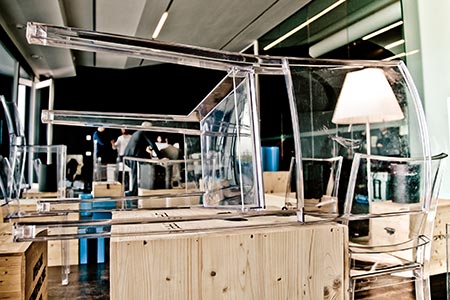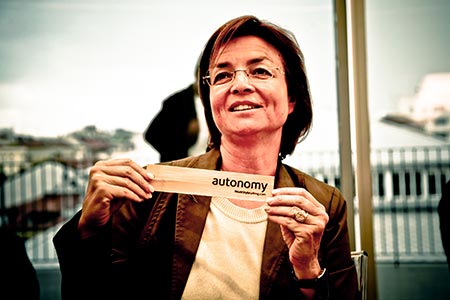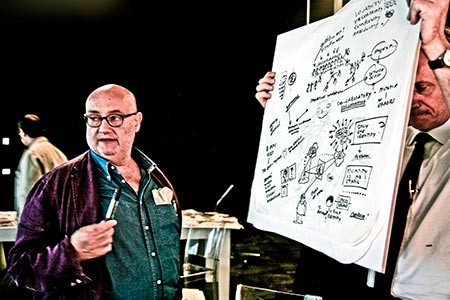 It was Max who objected first. "In a company of 3,000 people, there will maybe be 10 personalities. The rest will be cows who simply follow," he declared. "That is how they work. The younger generation … you tell them they need to develop their identity in order to get into the job market … that their identity has value. But when they get there it is not like that. We are lying to them."
He then repeated the line about the cows and how it was only the workers in the top tier of any company who can truly express themselves. "I have lived in New York, in Madrid and in Milan and it is the same everywhere."
He later added: "They are asking you to be what is best for them, which may not be what is best for you. It is important to preserve your dignity."
What amounted to an emotional outpouring was in reaction to the contents of Work Style's Identity Talk at the minimalistic and modern Open Care Centre, in Milan. Some 25-odd guests were being verbally poked and prodded by moderator Rosario Imperiali, a lawyer-cum-journalist and a member of the European Privacy Association, on why worker identity is an essential component of brand identity – and that personality and the ability to interconnect with colleagues will be the prized values of the 21st-century workplace.
Trust in yourself, was the message (with the emphasis on self) and others will trust in you.
Max clearly didn't agree. But then came the twist. The participants were asked, as a parting shot, to describe their ideal workspace.
Max's answer: "A place where I can make people's dreams real. Ten years ago I had a dream. I couldn't achieve it here in Milan. I went to New York and made it real. That gave me strength."
No mention of cows or attempts to subvert employee dignity.
He described after the talk how he studied to become a clinical psychologist in Milan. Seeing no future in his line of work in Italy, he travelled to New York for further education only to be sucked into the nascent internet movement of the mid-80s. Even then he could not have imagined then that he would wind up back in Milan (via Madrid) as a partner in a firm that helps other companies consolidate and streamline costs in order to lower their outgoings.
So it is possible to swim against the tide after all, to be a dreamer and preserve your individuality at work.
"That's just me," said Max (or Massimiliano Amagliani, of Expense Reduction Analysts, as the business read) with a disarming smile. "You say black and I say white. But I do believe what I said. It's easy to tell youngsters to be themselves but it is not like that in the real world."
Why?
Consider some of the other answers to the task of describing an ideal workplace.
"A place that is open and free, where one can express their identity."
"A place where ideas flow naturally."
"Work based on vision and values – strong, clear values – and the product will follow."
"Good internal relationships."
"The most important thing is the person I work with … that the person is self-aware."
"In my room at home, surrounded by my books." (Well, a modern interconnected workplace isn't for everyone, after all.)
"A place where one's identity inside the workplace is no different to one's identity outside."
Now there's a concept that's worth repeating: "A place where one's identity inside the workplace is no different to one's identity outside."
Consider this for a moment: How different are you at home and at work? And why?
Max described not only the subservient worker (undoubtedly different away from the office) but also demonstrated the multiple personas he has at his disposal: black or white, depending on which side of the argument he chooses to place himself. Even the name he introduces himself with is different to that on his business card. And he has, at key stages of his life, changed his own work identity radically.
Identity is, therefore, by its very nature much more fluid than we imagine it to be, akin perhaps to the persona – or mask – worn by Roman actors to distinguish their characters on stage. Even the etymology of the word betrays mixed roots: id-entis (to be) from Latin and id-einai (that which is) from Greek.
Equally obvious is that it is the people we work with, and not salaries or positions we apparently crave, that we cite when considering how happy we are at the office.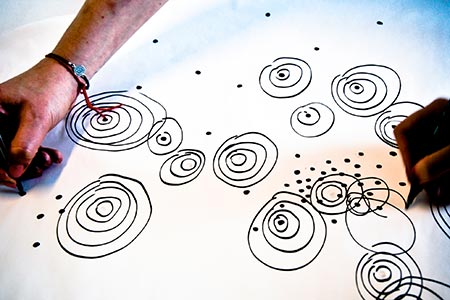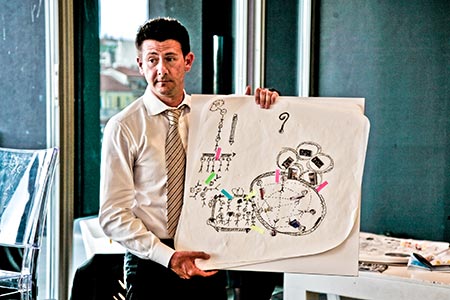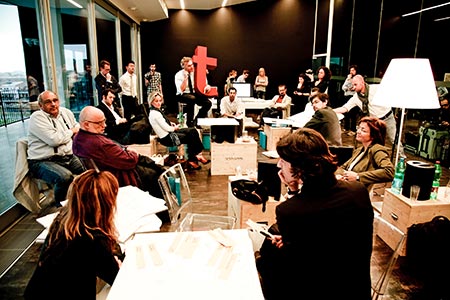 Vertical hierarchies are, indeed, giving way to flatter, more interconnected structures in all walks of life, nowhere more evidenced than in the burgeoning social networking and blogging scene. We are living a telecommunications revolution where information is shared as never before. Encyclopedias have become online, collaborative affairs – updated and revised by its users in real time. And the first port of call for information is, typically, an internet search engine. We share our thoughts and moods on Facebook and disseminate and absorb blasts of information on Twitter. And where Facebook places the emphasis on the social side of social networking, LinkedIn offers a more business-orientated means of connecting people.
And, naturally, all of this has entered our workplaces – both in changing the way we use office computers and in the manner in which we are able to exploit a virtual world to bring very concrete results.
Take the downloading of films and songs, for instance. The process may breach intellectual property rights but it is widely practiced and perfectly demonstrates the power of interconnectivity. Peer-to-peer downloading works on the principle that the greater the number of people downloading at any time, the greater the speed of the file transfer onto your hard drive. And all the while, the downloader's computer is providing information that is pooled to speed up uploading on other computers.
Indeed, more often than not, we have no real idea what information is being exchanged as we browse the internet – just as we cannot be certain what information an employer is monitoring on our work computers.
The increasingly interconnected dynamic of workplaces was very much in evidence in last year's report by the British publication "Great Place to Work", which examines the most successful British and European workplaces.
However, the magazine concluded that though the information revolution has changed the way an office works (whether through intranet or internet), it is still the traditional values of trust and transparency, and good staff/management communication, that are most valued.
Consider the following from the Neil Walton, the Chief Executive Officer of Centor Insurance and Risk Management, which won the Best Small Workplaces Award 2010: "I take great pleasure from making my staff happy – and it definitely rubs off on our clients."
The idea is a simple one: Staff happiness equates to a high quality of product – and, in turn, client – satisfaction. Or put another way, employee identity and brand identity as one and the same.
With an annual business retention rate of 94 percent and a stable staff number (38 at the time the report was made), Walton owes the company's impressive 62 percent business growth rate over five year to a staff that feels at ease with the management and vice versa.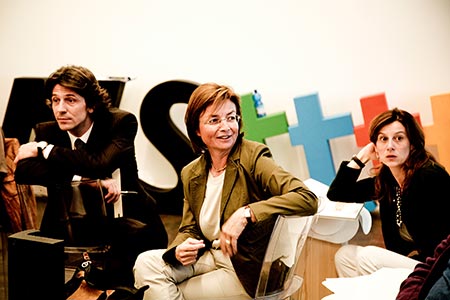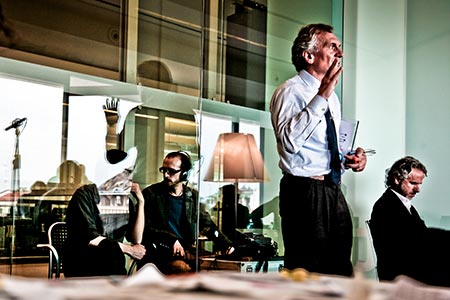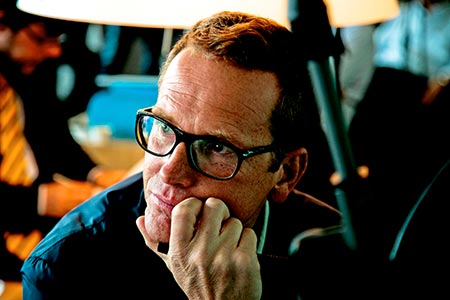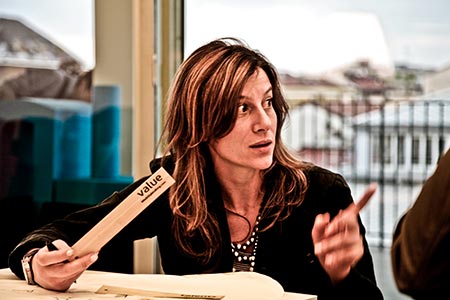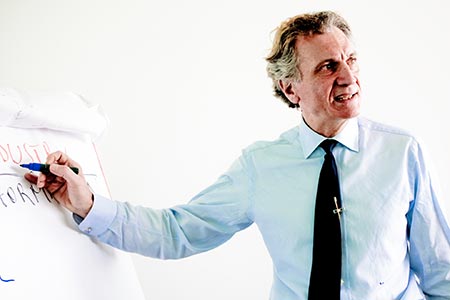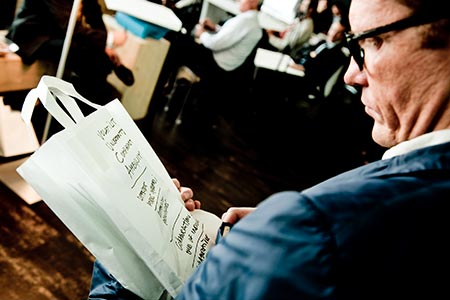 "If you lose that trust, you might as well give up," he said. "We have an open relationship with our staff. The whole company meets monthly to discuss financial results and operational activity. We have a large whiteboard on the wall of our trading floor which displays our income against budget, so everyone can see at a glance exactly how we're doing. We celebrate good news but we also tell them the bad news – otherwise people go away worrying, and put two and two together to make 24."
And if this sounds like wishful thinking, the magazine offered its key 2010 findings, gathering the experience of more than a million employees from across Europe.
Europe's best workplaces (according to the magazine's criteria) grew their revenues by 15 percent on average, despite the recession. Sickness absences in the best 50 UK workplaces featured was 30 percent lower than the national average, saving those organizations £20,760 per 100 employees per year. And almost 90 percent of employees in the UK's best workplaces believe the management is open and honest in their organization, compared to the national average of 55 percent.
So much for the success stories. What about in the average workplace?
Max Amagliani expressed the thoughts of many – perhaps most – when he reacted against what he felt was a utopian description of the benefits of promoting individual identity at work.
Consider the reaction of fellow participants in the Open Care Centre when asked to consider the four-letter acronym 'VUCA' often used when brainstorming the subject of emerging trends in strategic leadership.
Before the meaning of the four initials was narrowed down, the guesswork was revealing. 'V for violence' and 'C for crisis' came long before the correct answers of Volatility and Complexity, while Uncertainty proved more straightforward and Ambiguity took little time thanks to a generous prompt by moderator Imperiali.
Violence and Crisis – hardly surprising when you consider the contents of the average news bulletin these days.
Just as it's hardly surprising that "fear of discrimination" was given as a chief reason for keeping your true identity under wraps at work.
Eleonora Cattaneo was another to weigh in on the dangers of encouraging new blood to be themselves at work.
"You're saying that the molecular model applies to the younger generation," she commented. "We're telling these people, 'Work together, cooperate, express yourselves, say what you think.' And then we put them into organizations where this does not happen."
Like Max, though, she stressed that, despite this pessimistic appraisal of the average workplace, it's still worthwhile warning workers to protect themselves against corporate manipulation.
"It's too easy to compromise your principles," she said. "Sometimes it costs you to say what you think but, in the long term, it is better to be transparent so that you don't become compromised."
For others, such as Rita Falconi, the overview was more optimistic. Rita chose five core values – excellence, sobriety, creativity, value and luxury – to define her view of what makes up corporate identity, and stressed that corporate culture is nothing more than the product of the people within it.
"You have to believe it if you work there," she stressed, adding that managers should be urged to take note of the mantra: 'Not to be noted but to be remembered.'
"For me it's important to know this value because if a person doesn't know the value of his company, he will not reach the outside. This is our goal," she said.
Rita's words accompanied an attempt to describe a sketch she was asked to make whilst listening to the moderator. Along with other participants, she had been given a blank, irregular-shaped piece of paper and an assortment of graphic materials and asked to illustrate her view of identity based on the contents of the workshop.
Some contributions verged on the esoteric (or, to be more honest, downright baffling). "You're the guy trying to find which identity to use," pronounced Roberto Pesenti, a neatly dressed man with grey hair and a trim moustache, describing his diagram of Rosario Imperiali himself, half-moderator, half-chair (yes, half-chair!). "You're like an old Indian chief or a witch – I don't know which. You're using your heart. You adopt the position of a chair. You have white hair, like me – so you are my generation. And this is our son or our daughter approaching the identity – and they are laughing at you and me, and they are sobbing, trying to find their identity – fishing from the moon on to a computer … technology. They are trying to see the future."
And all the while, the man was pointing to the sketch he had made of a person – "the son or daughter" – sitting on a crescent moon, fishing rod in hand and the line dropping to the bottom of the page where it was connected to a laptop computer.
Confused? Me too.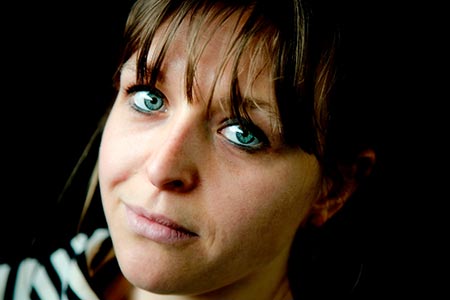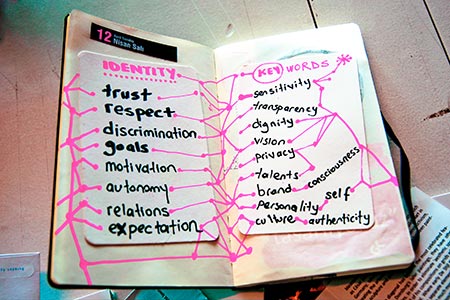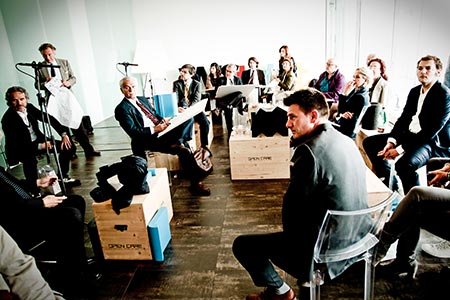 And then there were the words of Alfonso Femia, an architect with a characteristically intricate drawing, with arrows and buildings and other sculpted offerings.
"Identity is a series of actions and reactions," he concluded. "The difficulty today is that we don't know whether our identity is real or virtual. Here are the various forms of identity – of the person, of a landscape or a city, of a culture, of time…"
Describing her sketch, Eleonora Cattaneo pondered her earlier contribution questioning the merits of encouraging the development of personal identity at work, and why there is such a discrepancy between our behavior at the office and away from it. "I wondered whether personal and professional identities overlap or if there are differences … and whether one's professional identity is more controlled as a result of companies being hierarchical," she said. "And then I wondered to what extent culture influences identity and whether you are the product of the culture that you grow up with. Culture is, after all, something that is learnt. You're not born with a culture, you acquire it as you go along. That was a question I asked myself: To what extent does culture influence identity?"
For sheer simplicity and clarity of vision, however, Francesca Tonegutti, smartly dressed in trouser suit and heels, rose above the others: A football pitch (a rectangle, two penalty areas, a halfway line and a centre spot), the words Roma and Lazio written either side of the pitch, and a heart around the word Roma.
"These are two teams of the same city," she explained. "For me, identity means that I am really connected to one of them. I love Roma. I go to many of their matches. It is about identifying with something that connects you to someone else who has feelings for the same team."
If Francesca Tonegutti had begun life on the other side of town, she would be still be going to the Stadio Olimpico but her chants and cheers (and shared feelings of identity with fellow spectators) may now be directed towards her current bitter rivals.
As Eleonora so eloquently put it: "You are not born with a culture, you acquire it as you go along." Can the same, therefore, be said of identity?
Asked to pick out two keywords that summed up her notion of identity, Francesca chose value and talents. "They are connected: identity is a value, especially if you have talent. And if you have a talent, you have value."
Paolo Glisenti, another grey-haired, keen-eyed participant, also touched on the fluidity of identity. "You have different collective or individual identities depending on the historic complex within which you live," he said. "If you live in a military complex, for instance, you will have a hierarchical society. Your objective is to conquer lands and people. It is clear that identity is formed in a dynamic relationship with the outside world and that we have very little control of its formation – much less than we think."
It was Paolo's comments of privacy, however, that were the most thought-provoking.
"Privacy is probably the most abused concept in our lives," he commented. "It happens every day. I signed a paper coming here. I don't really have a clue what I have allowed you to do with this paper. I just signed up automatically. Every step you take ever day, we agree to give away our privacy.
"There is an ambiguity about privacy in that, on the one hand, we tend to protect it hysterically. And, at the same time, we really look forward to giving away our personal information. But I can undoubtedly benefit from the fact that someone else is sharing their data. Take the healthcare system. We benefit from the system knowing my blood samples more than I lose by giving them away because research gives me benefits in insurance coverage … Everything works on manipulating, understanding and analysing individual blood samples. The progress of cancer research would never have taken the speed it has if each cancer patient did not give away information."
But here Facebook (and doubtless other social networking sites) has a case to answer. Users readily divulge more information on their profile pages – dates of birth, family photographs etc – they would in other circumstances seek to protect. Depending on your privacy settings, this information is sometimes open to all Facebookers users, not just your "friends".
We talk about assuming multiple identities. What about the danger of another assuming your identity? Identity theft is, some would say, the most damaging form of theft possible.
On the subject of Facebook, what about the thorny issue of employees updating their profiles during work hours? In Britain, it was estimated that that staff who use social networking sites cost businesses £1.38bn in 2009, according to IT services group Morse. On average, staff were found to spend 40 minutes a week on social networking sites – an amount that has certainly increased since then. It called the trend a "productivity black hole." Some employees have even been dismissed for spending too much time on such sites.
By the same token, many PR agencies have now switched their attention to extolling the virtues of companies using social network sites to promote brand awareness. Twitter is ideal for distributing nuggets of news and latest offers.
Some firms, usually smaller businesses, have even made employees administrators of the company's official Facebook site, encouraging another level of staff and employer collaboration.
And Facebook and Twitter are not the only vehicles for online business services. Salesforce Chatter is the brainchild of billionaire Marc Benniof and has built up a loyal following.
"We've taken the concept of Facebook – the status updates, the profile, the feeds – and turned it into an enterprise," he said. "The benefit for me as an executive is a great deal of transparency. Email tends to be a private medium, with one-to-one messages going out, not a great vehicle for sharing information."
But the last word on the subject is reserved for Barry Clark of Future Foundation. The enterprise attempts to identity and forecast social and consumer trends and determine the extent of their impact on market, services and brands. He commented recently on how growing interconnectivity will increasingly enable individual employees to be identified. The common gripe of an employee is that others higher up the food chain take the credit for their ideas and talents, creating a disincentive for them to contribute.
This, Clark said, may be put right by the use of company intranets and networking tools like Salesforce Chatter.
"While people are encouraged to come up with innovative ideas and many feel that they have contributed these ideas to a company, a rather smaller percentage are directly rewarded for those ideas," he said. "I think one of the things that will change over the next decade is that the evolution of ideas will be used as the basis for remuneration. I think that collaborative tools are maybe one of the easier ways of quantifying people's intellectual output."
That, at least, is the theory.
Expressing your true identity at work may, indeed, be too high a goal for most – especially if you accept that identity is mostly formed by culture and surroundings. At a time when the plethora of information and stimuli – both sought by us and thrust upon us – is greater than ever before, perhaps it is more realistic to work on developing the ideal work and home personas separately than to strive to promote an identity that, in any case, is mostly likely the product of circumstance.
"You say black and I say white," as Max put it – a forced identity switch in order to stimulate a reaction that can, in turn, prompt ideas to flow.
Or perhaps you should just trust in yourself after all and others will, indeed, trust in you, whatever your personality.
The question remains, however: Everything considered – and taking into consideration past, present and future trends – what would your ideal place of work be?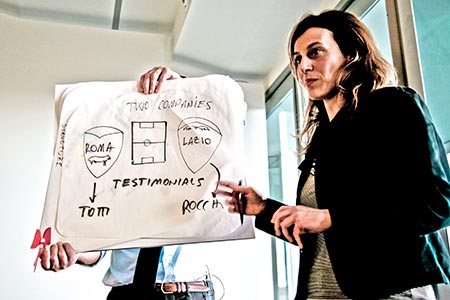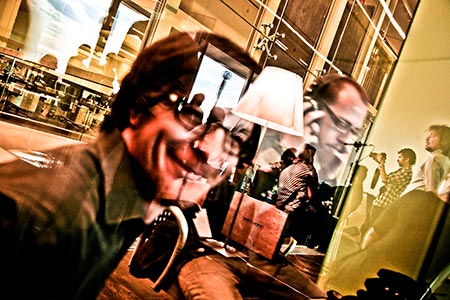 Creativity Perspective
Collection of the impressions of Karen Sason, Gokce Turkel (Illustrators) and Roberto Benzi (photographer)
A game of mirrors and a fingerprint: those were the two main concepts that photographer Roberto Benzi and illustrators Karen Sason and Gokce Turkel wanted to develop throughout and after the Talk: "Our identity is like our fingerprint. We were born with an identity and it grows and develops while we live our lives. Our identity includes our culture, it is affected by our experience, relations, love, emotions and everyday life."
On the other hand identity triggers our own perception of who we are and how other people look at us: "Identity makes me think of multiple personalities that make up a human being, of the masks that we daily put on to face our lives, of the deceptive sense of reality that surrounds us. Education, social status, fears, will to show off, emulation, boldness, shyness and anger: sometimes it seems that you are in a room of mirrors where you are the other and the other is you, but at the same time you are the person that looks behind you or does not see you at all. In Gurdjeff's words, 20th century mystic and Spiritual Master, the man is a perfectly working machine dominated by thousands of "Is" that alternate and create the illusion of being one." In this chaotic inner and outer world everything fuzzes and mixes up, making it hard to untangle the issue; real bodies and shadows get blurred, difficult to identify: "I looked through the shiny and reflecting windows at a group of women and men that were talking in a room. My eyesight was listening. I was playing with the camera as a child among adults. The color was exaggerated to stress its role as it emerged from the images," Roberto explains to us.
Karen and Gokcie's illustration shows the importance of the persona who is the center of his/her own world and sets out priorities and individual 'keywords' to keep his/her personality original. The idea came from the drafts: "We tried to make a collection for the audience to make a collage." Each participant was told to stick or attach something to their paper. The result was really impressive, since people were keen on creating very colorful and strange drawings.
This "experimental workshop" – in Karen and Gokce's words – turned out to be a challenge where you could put to test your chosen means of communication: "Interpreting a talk on Identity with a simple camera that is apparently mute and static led me to look for the silence of the observator to represent my perception of that particular subjective and temporal reality."