We have been advocating for effective downsizing strategies for almost two decades, arguing that firms who treat their employees fairly, and with compassion and openness during the process of laying them off, will end up better trusted by both those who leave and those who stay.
We advocate for transparency during the downsizing process, open communication at all levels of management, and transmitting a hopeful attitude for the future, for both those who leave and those who stay. The writers of Up in the Air obviously did not read any of our research or institute any of the best practices we advocate.  Then, again, most corporations doing the actual downsizing these days don't follow experts' advice, either.  The movie Up in the Air stars George Clooney as Ryan Bingham. He works for Omaha, Nebraska-based Career Transition Counseling, a fictional firm that specializes in providing corporate downsizing services for companies that don't want to fire their employees themselves. Although the film and characters are fictional, there are many realistic aspects. The film provides several lessons that are consistent with our own experience as researchers and consultants who have studied downsizing for the past two decades. 
EMOTIONS THAT GO THROUGH THE PROCESS
Part of the realism comes from the fact that director Jason Reitman cast several real downsizing victims to play those who lose their jobs during the course of the film, and the emotions that they convey are those we have found in our own research:  anger, fear, cynicism, disgust, and distrust. What is missing from almost all of the downsizing victims is the hope that their lives will somehow become better as a result of having to find jobs somewhere else.  We are neither surprised at the bleakness of these victims' reactions, nor of the overall despair of the film.  This is because Ryan Bingham and his colleagues went about their downsizings without resorting to any of the methods that we and other researchers have exhorted managers and companies to use if they are to improve the efficiency and effectiveness that is the goal of their downsizing efforts.  When Ryan says during the film "We are sharks not swans", he is exhorting others to be fast change agents but without equipping them with any of the necessary tools to be such. The downsizing methods depicted in the film are inherently impersonal and cannot possibly convey any of the compassion or openness we advocate.  They cannot express regret or responsibility—in fact, Ryan specifically told Natalie "Never to express regret". Based on our ongoing research, we argue that a manager from the employee's organization should be the one to layoff the employee face to face. This because it sustains trust and loyalty even among those who lose their jobs.
PERSONAL RESPONSIBILITY
As an example of one company that we have been following for more than a decade, we have found that president Ted Castle of Rhino Foods in Vermont is one of those compelling leaders who is willing to take personal responsibility for any downsizing that has to be done.  As a result of Castle's courage and compassion, employees who lose their jobs at his company are willing to leave their new jobs at other companies to return to Rhino Foods when business conditions improve.  Given that Rhino Foods is in the highly cyclical food business, Ted has had to downsize his firm more than once.  Nevertheless, because hehas been transparent in showing the financial reasons for the downsizing, and because he has worked hard to help downsizing victims find meaningful employment elsewhere, he is able to engender strong loyalty not only among the downsizing survivors, but also among the victims as well. Ryan does provide a bit of hope to one victim, when he notices how this employee has always had an interest in becoming a chef, but never pursued that career.  Ryan is able to help this downsizing victim see the possibility that there is a future outside the corporate world, and that this can be a source of hope for him, however small.  We think this is a good approach, and one he should have taken the time to do with all of the victims.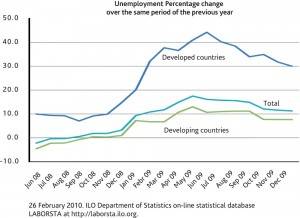 IMPORTANCE OF TRAINING
We have also long advocated for better training for front-line managers who have to implement the layoffs.  Many times, they are thrown into a room with their friends and colleagues with nothing more than a list of who they will have to layoff, and no training on how to deliver the bad news, or how to handle the range of emotions they are about to encounter.  We believe that character of Natalie (played by Anna Kendrick) is in many ways a realistic portrayal of what those managers will feel, especially if they have not had previous experience firing people who are not being fired for poor performance.  Natalie is initially quite detached, and uses the scripted information that she is supposed to convey to the downsizing victims as though she really believes it.  Once she begins accompanying Ryan to give the bad news face-to-face rather than across a video connection, the victims' unscripted reactions unnerve her. Their responses force Natalie to confront the reality of what she has been asked to do.  As she progresses in her job, however, she becomes hardened to it, as Ryan has, as a result of years of giving horrible news to countless downsizing victims.  It is only at the end of the film, when the results of their downsizing messages turn even more tragic for one victim, that Natalie rediscovers her humanity and chooses another path for herself. While downsizing is never the best first option, it would be handled more humanely if managers were trained to provide compassion, if they made sure to be more closely involved in the communication process, and provided their employees with hope for the future.
[W    ilo.org     lhh.com     rhinofoods.com]
Published in the hard-copy of Work Style Magazine, Spring 2010