Scooters are everyday more and more popular. Easy to use, they allow fast transfers and eliminate parking stress, and last but not least they have less effects on the planet.
by  Susan Carpenter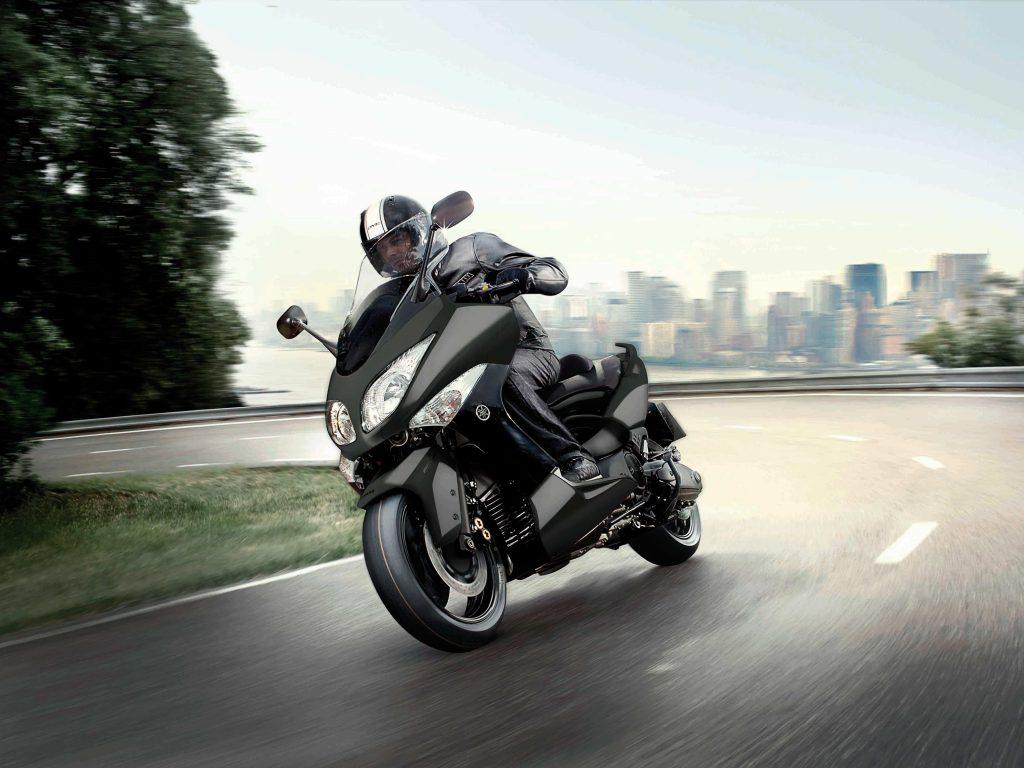 Prized for their low cost, high efficiency and general ease of use, scooters have long been popular with commuters, especially in urban environments. Today, there are more manufacturers making them and more models to choose from than ever. Ranging in size from 50 to 650 cc and offering fuel economy that often tops 100 miles per gallon, scooters are marked by automatic transmissions that don't require riders to shift gears and a step-through, rather than swing-a-leg-over, design that can be ridden in professional attire, negating the need for a stealthy Superman change of clothes in the lavatory.  While the first scooters were invented almost 100 years ago in the U.S., today's are manufactured almost entirely in Asia, with Japanese models dominating the U.S. and European markets and lesser-known Chinese brands popular in parts of the world where emissions and quality controls are lax.  Globally smaller scooters in the 50 to 100 cc range are the bestsellers because they cost the least and get the best fuel economy, but larger, more motorcycle-like scoots are becoming popular in Europe and the U.S., where riders are demanding performance as well as convenience and efficiency. We take a look at some of the most popular scooters on the market.
Honda SH300i: Honda's European bestseller benefits from the Japanese manufacturer's motorbike division. Powered with the same liquid-cooled 279 cc engine as its CRF dirt bikes, the SH300i is capable of traveling up to 100 miles per hour and gets about 65 miles per gallon. Its largish 16-inch wheels — equipped with disc brakes in the rear, as well as the front – and a telescoping front fork also make this machine handle more like a motorbike than a scooter. It's able to plow over rough roads without transmitting the bumps through its saddle and into the spines of whomever's straddling it.  Anti-lock brakes and a wide-coverage windscreen are both available as options on this scooter which is, unfortunately, also priced like a motorbike at $8,990.
KYMCO PEOPLE 150: The most popular model in the Taiwanese manufacturer's lineup, the People packs a lot of punch for its $2,799 price point. Powered with a 152 cc, air-cooled single, it has excellent off-the-line acceleration. It can reach a top speed of 70 miles per hour and gets about 75 miles to the gallon. While its 16-inch wheels are large for a scooter with an engine of its size and provide excellent stability, the under-seat storage compartment is minimal.
Suzuki Burgman 400: One of the larger scooters on the market, the 400 cc Burgman is an extremely versatile machine that can easily scoot to and from work — or across entire continents. Ideal for longer commutes, it is both comfortable and performance oriented, with a windscreen to prevent buffeting at high speeds, an adjustable rider backrest, a liquid-cooled engine and anti-lock brakes. Everything about this scooter is larger than most. It weighs 489 pounds. Its gas tank is a whopping 3.6 gallons. Its price is $7,499. And it has four storage compartments, including a large (and lighted) underseat area that can hold two full-face helmets. 
Yamaha Zuma 50, also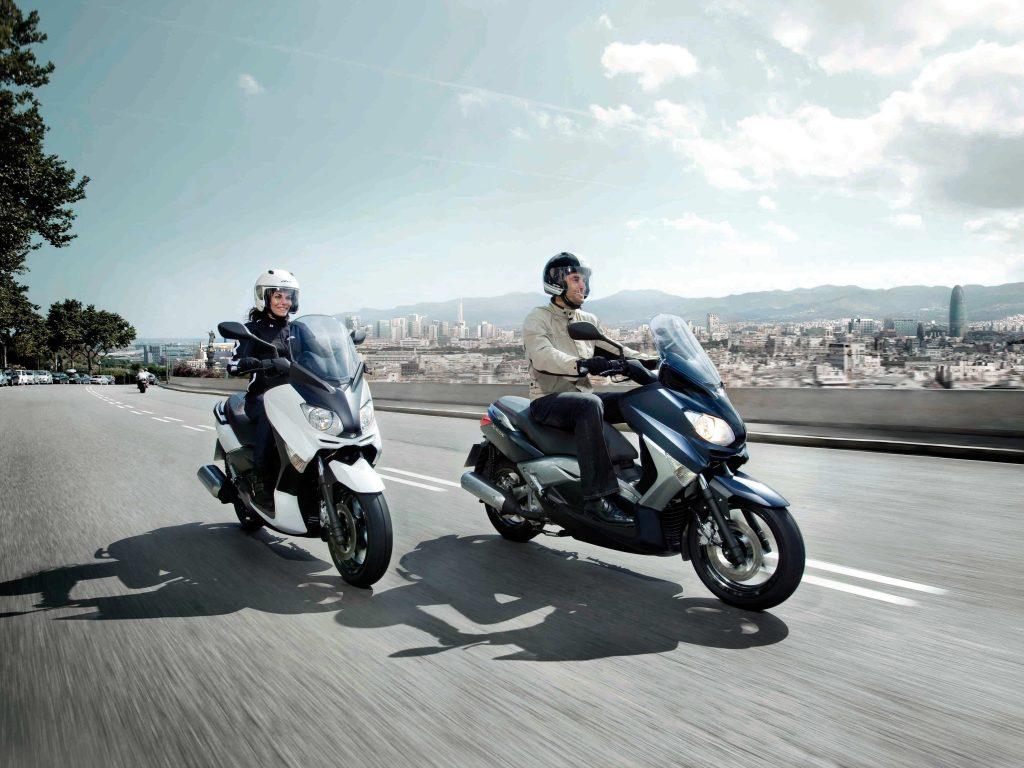 known as the Yamaha Bw: Popular in the U.S. for its sporty styling, the Zuma is the rare scooter to still use an air-cooled, two-stroke engine, which makes this Japanese 49 cc machine a bit dated but also punchier off the line than one would expect for such a small machine. With a top speed of about 30 miles per hour and 10-inch wheels, the Zuma 50 is best in low-speed or low-traffic environments.  The Zuma's greatest assets, however, are its bargain-basement pricing and fuel economy. The price is $2,390. Ridden sensibly, it can squeeze as many as 123 miles from a gallon.
Vespa GTS250: Vespa isn't only Italian design at its finest. It is the standard setter for scooter style,  with an often-imitated classic body shape formed from a single sheet of stainless steel, rather than a tubular frame covered with plastic.The GTS250 was the first Vespa to be electronically fuel injected and to employ a continuously variable transmission, which improve fuel economy and handling. The GTS250 gets about 60 miles per gallon and has a top speed of about 75 miles per hour. Its tall seat and high price for its size ($5,999), however, make this scoot even more rarified than its high-status name.
LETTERS FROM BRANDS
1 Immacolata Moretta from Suzuki: "Last year in Italy there were 212.000 scooters and only 93.000 motorbikes. As you can see, there is an overwhelming dominance of the scooter, used mainly inside the city for the purpose of commuting. For Suzuki, the Italian market for scooters is the most important of Europe because here the use of two wheels is much higher than in other countries. Suzuki offers several models with cc. from 125 to 650, but there are two main families: the Bullman in 125, 200, 400 and 650 and the high-wheel model in 125 and 150 cc, which is characterized by a large and thin foot wheel. This type of scooter is especially widespread in some cities such as Rome, Naples, Catania and Palermo."
2 Raffaella Pasquino from Yamaha Motor Europe: "In the maxi scooter range the highlights are TMAX (the ultimate sports maxi scooter for people seeking the top quality product with an adrenalin edge), XMAX250/125 (sporty commuter model with wide under-seat storage for easy handling of daily tasks) and  XCITY125/250 (high wheel commuter, ideal  for the cobblestoneroads as it allows the rider to travel in comfort). Yamaha recently introduced the EC-03, the first all-electric urban commuter. The compact size of this new scooter makes it ideal for people who never rode a two wheeler before. Yamaha also offers a 4stroke variation on some 50cc models. 4 stroke engines consume less petrol and reduce c02 emissions."
3 Tony from Meiduo Motor (China): "We try to make the emission better. At present our most eco-friendly model is 50 cc, also selling best."
4  Frederic Bart from Peugeot Scooters: "people use a scooter as a second car to save money and time and look for a vehicle with a storage capacity for one or two helmets, protective against bad weather, easy to drive (no shift) and easy to repair", and "As far as Peugeot is concerned, we usually sell 90 % of our products in Europe where Italy is the main market and France the first one for scooters under 50cc. We also sell low cost vehicles in Africa and since 2010 we opened our first flagship store in China, the most important market in the world where we intend to get soon 145 point of sales, Peugeot is the oldest two-wheels manufacturer in the world since 1898. An incomparable experience that allows our brand to propose 22 models from 50 to 500cc + an electric scooters to fit the needs of our customers all over Europe and everywhere."Moreover "we have been the pioneer of the electric mobility since 1996 and we will launch in a few week the new generation electric scooter with the objective being to confirm our leadership in the green mobility market. Our eco-friendly model will coming soon, during the spring 2011. We expect to take 40% of the European electric market."
EMISSIONS gCO²
Bike 0 gCO²/km 0
Tram 22 gCO²/km 22
Train 45 gCO²/km 12
Bus 75 gCO²/km 30
Motorbike/Scooter 90 gCO²/km 15
Airplane 150 gCO²/km 60
Car 237 gCO²/km 87
From the information above we can easily gather that if we walk rather than go by car we can save 237 grams of CO² per km traveled. This means that in one working year made of 230 working days, we can save up to 55 kg of CO². If we take the bus instead of commuting by car, we can save 162 grams of CO² per km, which in a year of work sums up to 40 kg of CO² per km
[W    honda.com     kymco.com     meiduomotor.com     peugeotscooters.com     piaggio.com     suzuki.it     yamaha-motor.eu] 
Published in the hard-copy of Work Style Magazine, Spring 2011