How do people eat in corporate canteens? In the past year we have seen a progressive reorganization of the restaurant industry, which has always adopted the duty to promote correct nutrition, together with food.
THE EVOLUTION OF THE CORPORATE CANTEEN
Correct nutrition is fundamental for good health and wellness. Knowing what this means is key for achieving a balanced diet. A large proportion of the working population eats at least one meal outside the home daily. This shift, more recent in Italy than in other countries, has led to a progressive reorganization of the restaurant industry, where part of the work includes ensuring that employees are apprised of how to eat healthy. The world of work is undergoing constant evolution. We notice a change in the way people work, in their rhythms, timetables, as well as in the composition of the workforce, in their expectations and habits. These changes are also reflected in the catering sector that serves them their mid-day meals.
SAVINGS IN THE CORPORATE CANTEEN
While some observers feel that company canteens waste considerable amounts of food, both Laurent Cousin and Edoardo Venturini, of Sodexo France and Italy respectively, disagree. By planning ahead and collaborating upstream with their vendors, all levels of the value chain can optimize usage levels. Both the companies and the foodservice providers are alive to the need to maintain costs. Suggests Giovanni Colombo, from  the Italian outpost of Dussmann Service, Germany's largest private multi-service provider, which boasts almost 54.000 employees and subsidiaries in 24 countries. In Italy, the range of waste of cooked food in corporate canteens is slightly less than 10%. He does acknowledge, though, that the proportion varies from canteen to canteen. Knowing about employees' habits, likes and dislikes allows foodservice providers to custom-tailor menus. This, together with recently-introduced "cooking on request" option, helps significantly to reduce waste. Any leftovers are donated to food banks run by charity organizations. Thus waste is eliminated almost entirely. Similarly, by grouping deliveries, leveraging purchasing power and, where possible, centralizing  procurement at global level, the foodservice companies aim for  maximum efficiency at the other end of the value chain.
ENVIRONMENTAL COMMITMENT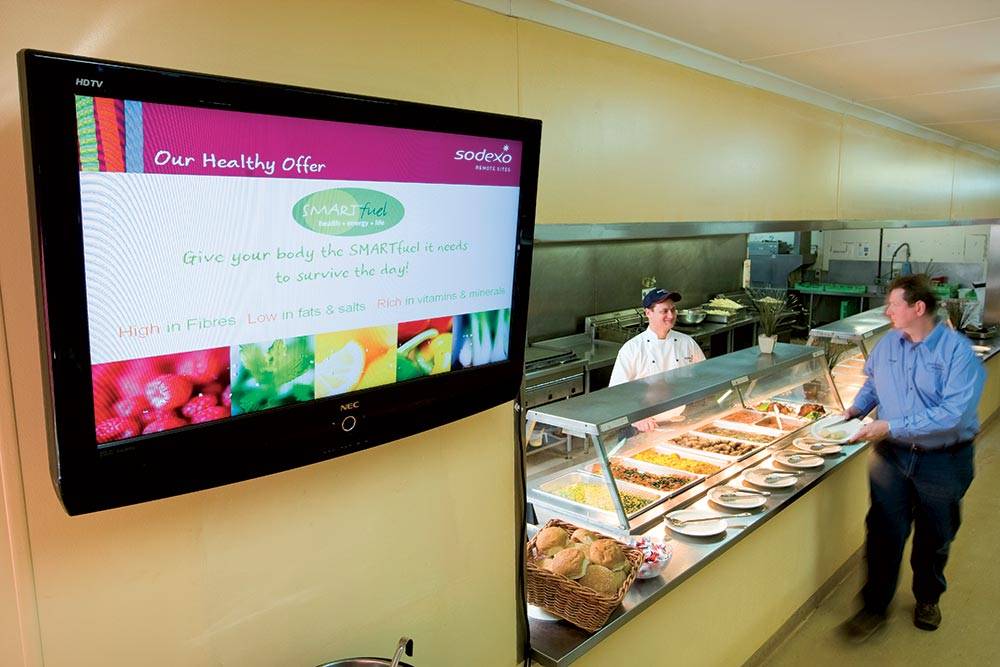 The most important trends in foodservice revolve around responsible practices for health, nutrition and sustainable development. As Mr. Cousin states, "people are more and more environment-conscious. They want to contribute to lowering their carbon footprint. They are concerned about protecting endangered species. Traceability and fair trade are not just slogans." In the USA, an increasing number of consumers now expect their food to come from the state where they live, while actions to promote local and seasonal products are numerous. Customers are expecting responsible offers that help to protect the environment and contribute to global social welfare. Nowadays, continues Cousin, "having lunch at a corporate canteen is turning into something more than just having a nice, decent-priced meal. Indeed, it is also an opportunity to contribute to a better planet." Asking customers to use the appropriate recycling bins when they clear away at the end of their meals has been welcomed from many quarters. It is seen as a way for people to take charge of the recycling effort. In the Netherlands for example, Sodexo's introduction of selective sorting in restaurants many years ago, has been proved to increase consumers' adoption of recycling.
TARGETING
Venturini, states"clearly, before proposing a service it is important to know who your final customers are. By taking into account the needs and the expectations of your clients, you will improve the quality of their lives and, in the long term, this will provide a return in terms of productivity." As part of their strategy, Sodexo Italy has conducted a study that has identified six types of final clients. That are labeled as: the creative, the guaranteur, the conservative, the practical, the effective, and the free spirit. Each group has been offered a solution in terms of menus, timing, and layout of canteen space. Indeed, it seems that the new trends in food consumption around the world are "less about variety, such as having the choice between dozens of starters, entrees and desserts, and more about different ways of eating, such as fast, take away, or full sit-down meal," says Cousin.
Corporate spending for canteens Generally speaking, we can say that the worldwide average price for a lunch in a company canteen is somewhat less than 10 Euro, with considerable differences between countries.
Indeed, while in Italy the average cost of a meal ranges from about 3.50€ to 6€, in China we can find offers for 90 cents, or in the opposite side, in the USA meals can range up to $9. In France the average subsidy in corporate services has, over the last twenty years, dropped from between 75% and 80% to a little less than 50%. In some cases, employees get no subsidy at all. We find further examples of what we might call a "zero subsidy" in Moscow, this in some modern business centres.
Local Food and Seasonal dishes
Organic and locally-produced food are finding their way into company canteens.Seasonal food by focusing on seasonal foods, suppliers bring fresher, tastier and, arguably, more nutritious food to their customers. The use of seasonal food ensures people eat different dishes throughout the year. More, seasonal food means energy saving in terms of transport, along with lower CO2 emissions. Seasonal food costs less than non-seasonal, which has probably been airlifted in from a long distance. Buying seasonal, locally-grown, food means supporting the local economy. Last but not least, eating seasonally means reconnecting with nature's cycles.
Wellness and nutrition
Menus in corporate dining rooms are designed to be healthy and balanced. To meet these needs, foodservice providers worldwide also offer educational programmes. In the UK, for example, Sodexo's Healthwise offers consultancy and operational management for health, fitness and well-being in the workplace. With a similar objective, Sodexo Australia has implemented Smartfuel. This includes personal nutritional coaching. In Italy, the programme known as Pleasurable and Healthy? Yes, indeed! offers many initiatives to help transform the lunch-break into an educational experience. Posters and place-mats feature advice on healthy lifestyle choices and eating habits. The main objective of foodservice providers indeed seems to be "not only to advise and contribute to encourage healthier eating habits in the workplace by means of programs in the corporate canteen, but also to change people's behaviours in a deeper way," states Mr. Venturini. In this fashion, the company is trying to widen its influence beyond direct action in order to promote healthier eating habits within the population at large.
Leading international suppliers
• Aramark [W     aramark.com] • Compass [W     compass-group.com] • Elior [W     elior.com] • Dussmann [W     dussmann.com] • Sodexo [W     sodexo.com] • Sysco [W     sysco.com] • Taylor Int. Services [W     taylors-international.com]

Published in the hard-copy of Work Style Magazine, Fall 2010