Corruption is a distress undermining democracy. It damages social justice and the rule of law. Corruption is closely intertwined with the exercise of power, whether public or private. Whoever has power is generally more likely to abuse it.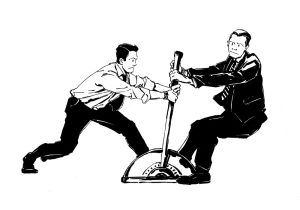 SYSTEMIC CORRUPTION CAN HAVE GREATER COSTS
The harm of corruption is everywhere: the latest EU anti-corruption report from the Commission to the Council and European Parliament confirms that, at a European level, three-quarters of respondents (76%) think that corruption is widespread in their own country. The countries where respondents are most likely to think corruption is pervasive are Greece (99%), Italy (97%), Lithuania, Spain and the Czech Republic (95% in each). Also, according to this research, a quarter of Europeans (26%) consider that they are personally affected by corruption in their daily lives. Around one in twelve (8%) says they have experienced or witnessed a case of corruption in the past twelve months. Bribery and corruption cost the European economy an estimated 120 billion euros per year. On the political front, corruption is a major obstacle to democracy. Offices and institutions lose their legitimacy when they are misused for private advantage. This is harmful in established democracies but even more so in newly emerging ones. In some countries, corruption occurs primarily through campaign contributions that oblige politicians to repay major donors with favors.  On the economic front, corruption depletes national wealth. Corrupt politicians invest scarce public resources in projects that will line their pockets rather than benefit communities, and prioritize high-profile projects such as dams, power plants, pipelines and refineries over less spectacular but more urgent infrastructure projects such as schools, hospitals and roads. An example can be found in what recently happened in India: a few days after an under-construction bridge collapsed in Bihar's Muzaffarpur district, former Deputy Chief Minister Sushil Kumar Modi referred to the incident not as "an isolated incident, but as a breach of people's faith in the regime, which is steeped 'neck deep' in corruption."  Corruption also hinders the development of fair market structures and distorts competition, which in turn deters investment. Very recently, the Italian energy giant ENI was investigated on suspicion of possible international corruption. In 2011, ENI paid the Nigerian government US$1.092 billion to secure joint ownership of the oil block along with Shell. Prosecutors now claim the entire amount was in fact a mega bribe because ENI executives knew that US$800 million of that money was passed on to Malabu Oil and Gas, a company believed to be owned by a former Nigerian oil minister who was convicted of money-laundering in France in 2007.
BUT WE HAVE GOOD NEWS
Anti-corruption laws have been enacted over the past decades to prevent the growing phenomenon of corruption. The US started many years ago: the Foreign Corrupt Practices Act (FCPA) is a federal law, known primarily for its two main provisions, which address accounting transparency requirements under the Securities Exchange Act of 1934 and bribery of foreign officials.  To be in line with the legal instruments of international organizations (the ONU Convention, the OECD and the Council of Europe), the UK adopted the Bribery Act 2010 (BA). Extraterritoriality is one of the most important aspects of the BA, which applies not only to UK companies but also to foreign companies that carry out part of their business in the UK regardless of where the company is incorporated. Italy is one of the last countries to  adopt a new anti-corruption law, whose main feature is its applicability to both the public and the private sectors.
ANTI-CORRUPTION DUE DILIGENCE
A common trait in anti-corruption laws is that they are mainly preventive and, among other things, they suggest the adoption of a prudent approach toward business investments. They strongly recommend due diligence activities to assess whether a specific analysis of corruption risks has been performed and whether a specific anti-corruption compliance program has been implemented. Indeed, all investors who are interested in opportunities in countries associated with a high risk of corruption now have anti-corruption due diligence on their agenda. Anti-corruption due diligence involves identification of any potentially illegal conduct linked to violation of the relevant legislation. Moreover, it addresses the evaluation of the risk of corruption inside and outside the company and the appraisal of the effectiveness of anti-corruption compliance programs and internal controls in place. In other words, investors evaluate compliance programs and their level of perceived corruption as a result of the business environment and the company's business model. In addition, a key turning point for a complete assessment is the existence of an internal officer (or a team) who performs the task of preventing and controlling the risk of corruption, gathering information flows from finance, accounting, legal and internal audit departments. The result is that, more than ever, it is now essential for companies wanting to increase their market attractiveness and their value to implement internal control measures to prevent the risk of corruption. On the other hand, looking at the picture from the investors' side, wise and conscious investments cannot disregard a preliminary business decision grounded in the evaluation of the outcome of anti-corruption due diligence.
[W    eni.com    hub.coe.int    justice.gov    oecd.org    un.org]
The survey
Almost three times as many expats in EAGLEs such as Brazil, Turkey, India, China, Mexico and Taiwan say they were sent by their company, highlighting a trend for corporations to take advantage of these growth hotspots by relocating their employees abroad.
• Asia is home to the highest earning expats, who are almost three times more likely to earn over $250,000 p.a. than their counterparts in Europe (14% compared with 5% in Europe). Within Asia itself, the survey found that China is the preferred choice for these high-flying expatriates, with four times as many expats in China (29%) earning over the $250,000 p.a. mark compared with the global average (7%).
• Rental rates and volatile house prices are a big concern among expats based in the Middle East –  44% of expats there say fluctuations in rental prices pose a risk to their financial wellbeing and over a fifth (22%) say changes in house prices pose the greatest threat to their financial health.
• Almost a third of expats (31%) who took part in the survey say that they moved abroad because they wanted to have a new challenge. This reason is as common a driver of expatriation as "improving quality of life" and "moving to be with a partner or family," and is only topped by "better job prospects" (38%). The region that most attracts these challenge-seeking expats is Asia, with over two-fifths (44%) of respondents living there citing this as a key driver. Two-thirds (66%) of expats in Japan and just over half in Taiwan (52%) and Vietnam (52%), followed by Malaysia, Thailand and China, say this is one of the main reasons they moved.
• Canada takes the crown as the top expat retiree spot, with three times more expat retirees than the global average (31% compared with 11% globally), followed by New Zealand (28%) and the United States (26%).
• New Zealand ranks first in both the Expat Experience and Raising Children Abroad league tables, with parents noticing the improved health, wellbeing and safety of their children, as well as believing they are bringing up more confident and well-rounded individuals.
• Canada and the United States offer expats an easy setup and great quality of life, certainly helped by the familiarity with the language. Roughly three-quarters of expats in both countries (73% in the United States and 76% in Canada) comment on the ease with which they integrated into the local community, weighing in above the global average of 65%.
• Japan is a safe place to raise a family abroad. Japan's crime rate has always been relatively low, but this year official figures show that it has dropped even lower. Official Organization for Economic Co-operation and Development (OECD) figures ranked Japan as the safest country in the world in terms of crime. The organization attributed an ageing population, better safety technology and less use of cash as the reasons for lower crime rates.
• Expats rate Taiwan's healthcare system as one of the best in the world in terms of affordability and quality. Nearly three times as many expats say they spend less on healthcare than they used to (67% compared with the global average of 27%) and almost two-thirds (64%) say they enjoy the higher quality of healthcare available in Taiwan.
To see how your country compares in this year's Expat Explorer survey, visit the interactive tool:
Contents reproduced with permission from the Expat Explorer Report, published in 2014 by HSBC Expat.
Published in the hard-copy of Work Style Magazine, Fall 2014